The more we learn of the countless favours that Dona Lucilia obtains for those who have recourse to her intercession, the more clearly is the certainty formed in our minds that she is, in fact, an instrument of God to help all those who still struggle in this valley of tears. The following accounts give us eloquent confirmation of this conviction.
Cure of an eye disease
Fatima Clara Maria Rodriguez, from Peru, writes to transmit her gratitude to Dona Lucilia after being cured, through her intercession, of an eye disease.
She relates that, during a routine eye examination, the doctor who attended her detected retinal vasculitis in her right eye. She referred Fatima to a specialist in the field, explaining that the retina had suffered irreversible damage, probably due to another illness, and that now it was of utmost importance to preserve the sight in her left eye. After numerous tests, she was in fact diagnosed with ocular toxoplasmosis.
Fatima began a very aggressive treatment, which the doctors still considered insufficient to effect her complete recovery. Nevertheless, she confided that Dona Lucilia would intercede on her behalf. Begging her for a cure, she placed over both eyes a medallion containing strands of Dona Lucilia's hair, which an acquaintance of hers kept as an object of personal devotion and had lent to her. And her prayer was very promptly answered.
Fatima has her eyes examined periodically, but the doctors have never again found any trace of the disease.
A simple request, but made with confidence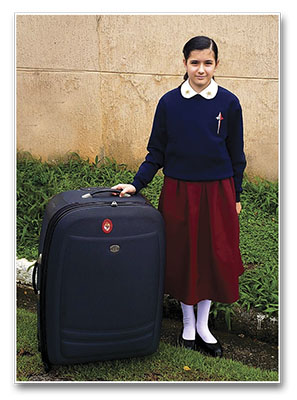 It is impressive to note how Dona Lucilia acts without despising the least request: she always helps those who appeal to her with faith and confidence. The family of Mrs. Ludmila Priscila Dousseau had the opportunity to witness the solicitude of this kind lady in resolving even a minor difficulty.
Until May 2021, Ludmila's family had lived on the coast of São Paulo State. One day, she and her husband visited one of the houses of the Heralds of the Gospel located in the municipality of Caieiras and were so enchanted with the apostolate that was being carried out there that they decided to relocate to the Serra da Cantareira, moved by the desire to be closer to this institution and be able to participate in the activities it organizes.
At the end of 2021, one of her daughters, ten-year-old Amelie Dousseau, asked to study at Mount Carmel School, staying in one of the houses of the feminine sector of the Heralds of the Gospel, on a trial basis. Dona Lucilia did not fail to intercede for Amelie, whose wish was promptly granted.
Ludmila set about preparing all the items that her daughter would need. At one point, Amelie asked her parents to buy her a suitcase to carry her belongings every weekend when she returned home. Her mother replied that the family's financial situation could not cover this additional expense, and gave her a suggestion: to ask Dona Lucilia for the suitcase. Full of confidence, Amelie presented her request to God through her to whom they always turned in their difficulties.
That same day, on returning home after attending Mass, the family found a large suitcase in perfect condition at the door of the house. The young girl's father, Jason Dousseau, picked up the suitcase and gave it to his daughter, who was overjoyed at the favour received from her kind intercessor.
"If he survives, he will be as if brain dead"
One of the characteristic notes of Dona Lucilia's kindness is the maternal tenderness she shows in being always willing to run to the aid of her children in any circumstance.
Veronica Lima Barboza, a resident of Montes Claros, Brazil, provides us with a valuable testimony in this regard: "On February 26, 2021, my son Breno Augusto Silveira suffered a motorbike accident in the city of Juiz de Fora. He was admitted to hospital with severe TBI (traumatic brain injury), polytrauma, a depressed skull fracture, 1.8cm brain displacement, several fractures in the left arm and an injury to the left lung."
The young man was given a rating of 3 in the Glasgow Coma Scale – the deepest stage, in which the patient does not respond to any stimulus. After performing a decompressive craniectomy, the surgeon told Veronica that "everything that needed to be done had already been done." And he summed up the gravity of her son's situation in one short sentence: "If he survives, he will be as if brain dead." In other words, he would be in a vegetative state.
At that tragic moment, Veronica maintained her peace of soul, comforted by the fact that a Herald priest had come to the hospital and administered the Anointing of the Sick to her son. She had obtained permission to visit him in the ICU every day, but unfortunately, due to the heightening of the COVID-19 pandemic, these visits were cancelled.
Dona Lucilia reveals her involvement in the case
Veronica continues: "On March 8, when the visits in the ICU were suspended, I asked the head nurse to place a picture of Dona Lucilia next to Breno Augusto, so that she could take care of him in my absence."
On April 12, he was discharged from the ICU. On the 21st and 22nd, the respective anniversaries of Dona Lucilia's death and birth, the young man showed encouraging signs of improvement: he sat up and raised his head. The two physiotherapists who were assisting him were very surprised; one of them, delighted with this progress, asked Veronica to mark the date of April 21, 2021, in order to celebrate this happy development.
Veronica closes her account with some simple words of gratitude: "Dona Lucilia took care of my son in the ICU, and today he is alive thanks to the miracle worked through her intercession."
During the fall, he prayed to Dona Lucilia
Sometimes we have the impression that certain adversities are permitted by Divine Providence to give our heavenly intercessors the opportunity to show how willing they are to help all those who turn to them.
Such was the experience of Ismael de Faria, also living in Caieiras. He has been confined to a wheelchair for nine years and needs an elevator to go from one floor to another in his house. One day he was using it as usual, but when he reached his destination, the steel cable of the lift broke, causing him to fall from a height of six metres.
Ismael then did the best thing he could at a moment like that: as he fell, he prayed, asking Dona Lucilia to protect him. His relatives came rushing to help him and he was taken to the hospital. Along the way, he never stopped praying to the same lady, asking her to help him emerge well from that situation.
At the hospital, several examinations were performed, including an MRI and a tomography which, to the surprise of the doctors, only served to confirm how much he had been protected: there was not even a single lesion!
"I am cured through the intercession of Dona Lucilia"
Luiz Humberto de Oliveira, of Juiz de Fora, also testifies to a grace received through the intercession of Dona Lucilia.
At the end of a camping trip organized by the Heralds of the Gospel during carnival time, he received a picture of Dona Lucilia as a memento of those days of blessed conviviality. "I kept the picture simply because it was a beautiful souvenir," comments Luiz Humberto.
A few days later, during his thanksgiving at Mass, he passed the photo to a friend, who showed marked emotion and devotion upon receiving it. Impressed at seeing this good attitude, Luiz Humberto felt the inspiration to ask Dona Lucilia to solve a health problem that had been troubling him a great deal, and for which, according to the specialist he had seen, the only solution was surgery.
Since that time the symptoms of the illness began to diminish and, in a short while, disappeared completely. The happy beneficiary joyfully testifies with gratitude: "Today I can say that I am cured through the intercession of Dona Lucilia."
*     *     *
We see from the above accounts how all-encompassing Dona Lucilia's maternal solicitude is: she is quick to intervene to obtain from God the miraculous cure of a young man hanging between life and death; on the other hand, she promptly answers the prayer of a ten-year-old girl who asks her with complete confidence for something almost insignificant. In our needs, whether great or small, let us also have recourse to her, certain that we will be heard! ◊
Authority with Affection
Let us hear the commentary of the one who took the most benefit from Dona Lucilia's motherly care: her son, Dr. Plinio Corrêa de Oliveira. Concerning her exercise of maternal authority, he says:
"I highly appreciated that Mama, at every moment and to the depths of her soul, was the lady! She exerted a maternal superiority over her children that made me feel how wrong I would be if I transgressed her authority, and, on the other hand, how it would sadden her if I were to be such an evil-doer and a brute. She was a true lady, ensuring that order prevailed in all spheres of life.
"Her authority was amenable. Sometimes she punished me a little. But even when being punished or reprimanded, the person felt comforted because of her sweetness. With Rosée the treatment was similar, although, being a girl, it was gentler. The reprimand did not exclude benevolence, and Mama was always willing to listen to any justification that her children gave for their behaviour.
"Thus, goodness was the essence of her ladyship. In other words, she exercised her superiority out of love for hierarchical order, selflessly, showing affection for her subordinates."
Such uprightness of soul, which is true goodness, was becoming less and less understood in a world bent on eliminating the uncomfortable distinction between good and evil. Yet, faithful to the spirit of the Church, Dona Lucilia continued forming her children according to its perennial principles, resisting the winds of change that were agitating society.
One of the most salient features of the upbringing provided by Dona Lucilia was the ability to transmit moral lessons through anecdotes or stories. The God-Man Himself used this wise method in His preaching, the parables being some of the richest and most beautiful pages of the Gospels, clothing divine teachings with incomparable poetry.
A key aim in Dona Lucilia's narratives was to teach detachment. She made it clear that she stood ready to sacrifice social status, fortune, or even life itself, in order to fulfil her duty entirely. Furthermore, she showed that this was the only reasonable attitude to take. Life is not made for pleasure, but for willingly shouldering the Cross of Our Lord Jesus Christ. Dona Lucilia loved this principle and practised it in her daily life, through resignation, and, moreover, resoluteness in adversity. Whenever she recounted an incident involving other persons, she would become involved in their joy or sorrow. This heightened her penchant for describing small, real-life episodes.
She always encouraged her children to value honour and to earn respect through personal virtue, while shunning ambition and the thirst for money.
She spoke almost exclusively of the good, the true, and the beautiful; it could be said that she viewed life solely through these prisms. Even so, when it was necessary to censure evil, no one was stauncher than she in fulfilling this obligation. Her sense of justice led her to praise the merits of others, while never failing to reproach wrongdoings. ◊
Taken, with slight adaptations, from:
CLÁ DIAS, EP, João Scognamiglio.
Dona Lucilia. Città del Vaticano-Nobleton: LEV;
Heralds of the Gospel, 2013, p.232-233.