At the dawn of the twentieth century,  a soul chosen by God so loved perfection as to become one with Him Who, in being one with the Father, is perfect as He is perfect.
After the Incarnation of the Son of God, many generous souls have sought the sublime form of union with Jesus Christ that consists of seeking to live in Him so as to be inhabited by Him (cf. Jn 15:4).  St. Paul, the Apostle to the Gentiles, who lived for three years in the company of Our Lord, brought this devotion to such a perfect degree that he could affirm: "It is not I who live, but Christ who lives in me" (Gal 2:20).
In the nineteenth century, a lawyer returning to Lyon from Ars, in France, after hearing just one sermon of Saint John Marie Vianney, testified to the union of the humble parish priest with Christ in words of wonderment, "I saw God in a man!"
At the dawn of the last century, a chosen soul, Marie Marguerite Dina Adelaide Bélanger – the first native of Quebec City to be proclaimed blessed by the Church – sought to define her inner disposition with these words: "We are no longer two, Jesus and I; we are one, Jesus alone. He makes use of my faculties, of my senses, of my limbs. It is He who thinks, acts prayers, looks, speaks, walks, writes, teaches: in a word, who lives…"1
Dina yearned for this union. To become acquainted with Dina Bélanger is to come to know Jesus Christ more closely. In this intimate relationship of creature with Creator, Dina disappears and He shines in all His glory. She becomes like a lamp that discreetly and gently diffuses the light of Christ, or a stained-glass window that filters and clothes the rays of the sun with a glow that speaks to human sensibility: "My duty now, and my occupation during Eternity until the end of time, is, and will be to radiate Jesus upon all souls, through the Blessed Virgin."
Her union with Christ reached such a degree that He affectionately called her "My little Own Self."
Jesus desires her autobiography
Dina may have passed unknown, had it not been for a superior who noted God's favours toward her. "You must write your life, my dear sister," she told her. Hence, we have her Autobiography, "One of the most flawless jewels in the spiritual writing of the Twentieth Century," according to Carmelite theologian, Fr. François-Marie Léthel.
To write about herself constituted a true act of heroism for Dina: "To speak continually about myself and to repeat the pronoun 'I' that I would prefer to see abolished forever!"  Still, she obeyed, filling several notebooks with her fine script and quietly leaving them with her superior who carefully stored them away.
Our Lord once confided to her: "You will do good by your writings." And so it came to be. She spoke familiarly with Christ, and recorded His sacred words, not just for her own benefit, but also for priests, religious and all of humanity.
The childhood of Dina Bélanger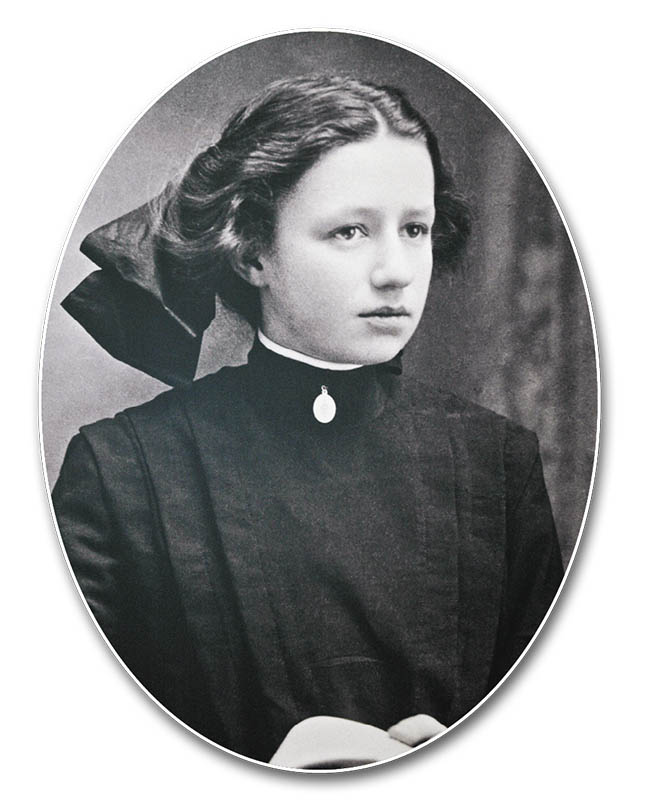 Dina's early years unfolded in the tranquil setting of a French Canadian family of strong faith. She was born in the Saint-Roch district of Quebec City, and was baptized on the day of her birth, April 30, 1897.
Her only brother died at three months of age. From then onward, her parents lavished all their affection and care on their only daughter. About this stage of her life, Dina writes: "What would have become of me had I been left to the mercy of my pride, my obstinacy, my whims, my unjustifiable roguishness?"
Her mother Séraphia brought Dina to church and on visits to the poor. She loved to sing to her daughter who, with her delicate nature and artistic temperament, developed a passion for music.
Her father, Octave, was an accountant. Perhaps it was from him that Dina inherited her precision of expression and methodical approach to her every duty.
Resolutions and goals
Throughout her life, Dina adopted numerous resolutions and faithfully fulfilled them. As a student, she proclaimed: "Death rather than defilement." As a postulant:  "If you begin, begin perfectly"; and throughout her religious life: "to love and to suffer." Just as St. Thérèse of Lisieux, a few years previously, she made the firm resolution to be "a saint." And as guidance along that path, she adopted a principle of Saint Augustine, "ama et quod vis fac" (love and do what you wish) transforming it into a motto which characterized her whole spirituality: "Love and let Jesus and Mary have their way."
It was through the hands of the Blessed Virgin that, at age 13, she consecrated herself to Jesus Christ as a slave of love according to the method taught by St. Louis-Marie Grignion de Montfort.
In her song of love at the opening of her Autobiography, she thanks Our Lord for all He has given her through the Blessed Virgin. "Without a single exception, You have bestowed your graces upon me through Mary, Your good Mother and mine, whom I love so much! And it is my constant desire to let her act freely in my life so as to foster Your work in me."
Interior struggles and offering as a victim
As she embarked on her studies at the Bellevue College run by the Sisters of Notre-Dame, she prayed interiorly, "O my God, grant that during my stay here I may not offend You by the least voluntary venial sin." There she struggled with her reserved nature, as she would throughout her whole life. "I wanted to smile at everyone, but I would have so loved to be alone." During a visit of her mother, she confided, "Mamma, it is no joke living with people!"
She tells quite simply that on the First Friday of October, 1911, as the students headed to the chapel for a visit to the Blessed Sacrament, she consecrated her virginity entirely to Our Lord. Also, about this time, she offered herself as a victim of love. "Scarcely had I learned about this gift of oneself, known as the heroic offering, than I offered myself; I abandoned myself entirely to the will of Jesus as his victim." She was inflamed with the desire for martyrdom and felt certain that she would be granted the martyrdom of love.
Until she joined religious life, she adopted a personal "rule of life," with times for morning and evening prayer, Communion, Rosary, meditation, and weekly confession. She strove to conceal her "exclusive interest in the spiritual life," leaving the Divine Craftsman of her soul to lead her in secret.
At the beginning of World War I in 1914, she offered herself to Our Lord, body and soul in a spirit of reparation and love. "I was distressed above all by the moral evil that threatened the world."
Studies in New York
After brilliantly finishing her intermediate studies, she returned home at sixteen years of age. Her parents decided that she should continue the musical studies that she had begun as a child. Through this art form, she drew closer to God, offering each note she struck on the piano keys as an act of love, and a true prayer.
Some months later, she sought permission from her spiritual director to enter the convent of the Sisters of Notre-Dame of Villa Maria, but was counselled to postpone her decision, because of her parents' hesitation. She saw the hand of Providence in this advice and submitted with all patience. She fulfilled her social obligations with dignity, and although public performance cost her dearly, she appeared in concert and become a pianist of some fame. She always nurtured true love of neighbour and was sensitive to friendship and courtesy.  But in the depths of her soul, she longed for religious life.
The opportunity arose to perfect her studies in piano, harmony and composition at the Conservatory of Music in New York. The offer was an appealing one: "I was passionately fond of art and beauty. I always aimed at perfection."
Her parents hesitated, but the local pastor allayed their fears, indicating that this would be a beneficial experience toward her formation. Therefore, from 1916 to 1918, she studied in the United States. As a French Canadian, she struggled to communicate in English, but took solace in music, since pianos sounds the same in any country. She lived in the residence of Our Lady of Peace, run by the religious of Jesus and Mary, and diligently pursued her courses. She began to study harmony and felt especially drawn to this branch of music. She came away from her experience in New York with a deepened relationship with Our Lord and with a blameless conscience: "I had to follow fashion and its vagaries regarding colours and texture, but I consistently evaded its foolish and blameworthy demands."
Path of perfection and religious life
Dina returned from New York at age 21. She remained at home during the four years that elapsed, until her entrance to religious life in 1921. During this period, she prayed much and often struggled with aridity.
She continued a course in harmony through correspondence with the New York conservatory, and appeared in concert. Despite her great love for music, contemplative life enchanted her, and this contrast between life in the world and her religious aspirations tried her soul. At times, she could hear the voice of Christ in her heart, but felt uncertain and wary of illusion. She was finally assured that it was truly Christ who was speaking to her mystically: "I noticed that Jesus spoke to my heart only when all was absolutely calm." On one occasion, Jesus showed her a path strewn with thorns along which He had walked first, desiring her to follow, but He also gave her His mother.
When Dina heard that St. Margaret Mary had made a vow of perfection, she immediately decided to undertake doing, on every occasion, what was more perfect, without, however, being bound by a formal vow: "To me, it seemed that to do anything less was a sign of half-hearted love," she wrote.
It was Jesus Himself who resolved her perplexity on which religious community to enter: "I want you in the Congregation of Jesus and Mary," He told her. This congregation, founded in France in 1818 by Saint Claudine Thévenet, is dedicated primarily to the education of the young. She was received as a novice on February 15, 1922, and she adopted the name Marie Sainte-Cécile de Rome. On August 15, 1923, she made her temporary profession and received the responsibility of teaching music to the students of the congregation.
Great Mystical experiences
At the outset of religious life, before entering the joy of full union with Christ, she was tormented by the "dark night of the soul." Yet, this period of trial strengthened her vocation and it was also during this time that she received some divine favours, among which was a break with her past so profound that she felt she had died and been born again.
Early in her vocation Dina twice received a singular grace – an experience of infinite love.  In a mystical experience, she "saw" Jesus take her heart and leave His own in its place. After her profession, she once again "saw" Jesus show her the heart that He had taken to Himself, and burn it up, along with herself, on the altar of His love. He breathed on the ashes, making them disappear, leaving Himself in her stead.
He foretold that her death would occur on August 15, 1924, exactly one year after her profession. When the day came and went without her physical death, He made her understand that mystically she had died to this earth and her eternal union with Him had begun.
On October 3 of this same year, she was permitted to make her long-desired vow of perfection. In a beautiful formula, she promised Jesus to do, in every circumstance what was most perfect in thought desire, word, and action. She gave herself to God with total confidence and full awareness of her own weakness.
 Christ lives and speaks in Dina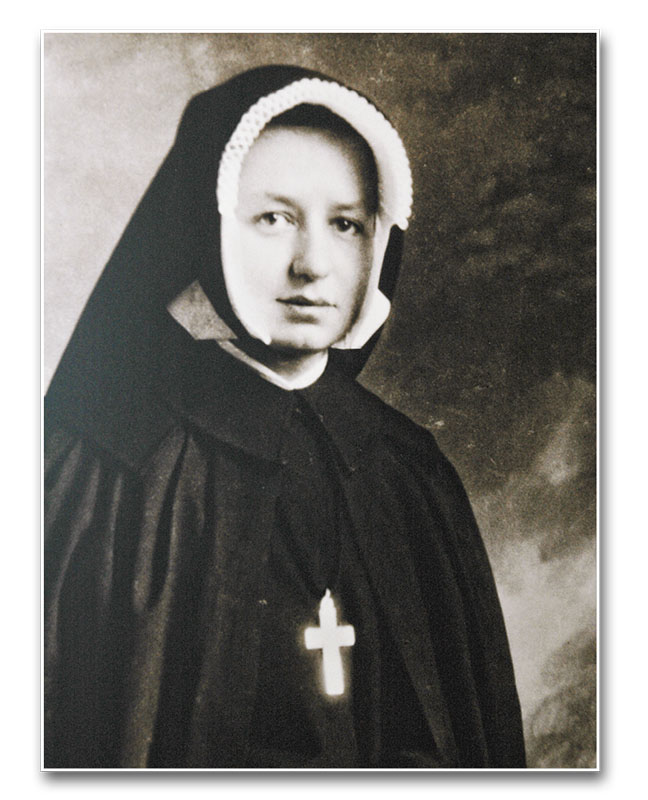 From this date onward, Dina having disappeared, it is the voice of Christ that dominates her Autobiography. He speaks to Dina with a touching tenderness to which she is most receptive.
Once, on the Feast of the Holy Name of Jesus – which Dina considered her feast, since she had been substituted in Christ – she wrote: "Since midday yesterday, my sweet Master has been drawing me to Himself with unspeakable tenderness… After my examen, then, I noticed that I was enjoying the sensible presence of my Jesus. And He said to me so graciously: 'In honour of my feast!' O! how I wish I could put into words how sweet Jesus is!"
Often, before giving her His chalice or cross, He would ask for her consent with His customary gentleness: "Do you?" in a way that would leave her speechless with love: "The suffering of my Heart is the martyrdom of love; and that, my little Bride, is what I am giving you."
Jesus speaks of the need for priests to foster a perfect interior life: "…My priests…oh! how I love them… I call them to be other Christs. To be replicas of me […] Offer to my Father, for my priests, the spirit of prayer of my Heart, my spirit of prayer, the perfect union of my Heart with Him. This is what most of my priests lack, the spirit of prayer, of intense interior life. […] Too many religious and priestly souls fail to understand that the sacrifices I ask of them are flames of love, escaping from my divine Heart so as to draw and sanctify their human heart."
Through the pen of Dina, Jesus shows Himself to a humanity that has forgotten His love: "My Heart has so many graces to bestow and the majority of souls do not even think of accepting them."
"My heart is overflowing with graces intended for souls. Bring them to my Eucharistic Heart."
"Souls are only unhappy in so far as they distance themselves from God. My Father's great desire, and mine, would be to see all souls happy, even on earth."
A canticle of love
Dina died on September 4, 1929 in her 33rd year, consumed more by love than tuberculosis. Our Lord had accepted her offering as a victim and had heeded her desire for the martyrdom of love. Her last entry in her "canticle of love," July 1929, embraces all of humanity. Our Lord speaks through Dina:
"No invocation responds better to the immense desire of my Eucharistic Heart to reign in souls than: Eucharistic Heart of Jesus, may Thy Kingdom come through the Immaculate Heart of Mary; and to my no less infinite desire to communicate my graces to souls than: Eucharistic Heart of Jesus burning with love for us, inflame our hearts with love for Thee."
*     *     *
Sister Marie Ste-Cécile de Rome was beatified on March 20, 1993 by Pope John Paul II. Her mortal remains lie in the new chapel of the community in Sillery, Quebec. ◊
Note
---
1

All citations quoted in italics, taken from  BÉLANGER, Dina. Autobiography. 3 ed, Atelier Rouge: Quebec, 1997.