Virtue transformed into art has an incomparable power of attraction. However, Divine Providence reserved this mission for only a few…
"Music pleases me, and in the world it was one of my concerns. I would have done better if I had applied myself to loving God during that time."1 This is how the great St. Alphonsus Maria de Liguori lamented having dedicated himself so much to the study of music in his youth.
But God, who had filled him with so many gifts, allowed him this "fault" so that his apostolate could later shine with greater excellence. The time he regretted not having dedicated to loving his Creator was, in fact, what eventually made him the holiest of musicians and, perhaps, the most musical of Saints!
Exceptional talent from his youth
"Of noble origin, […] ready for combat":2 this is the beautiful meaning of his name, Alphonsus. If, as they say, it was not motivated by etymology that his father so named him, it was nevertheless the dream he really cherished for his firstborn son.
Don Giuseppe de Liguori, hopeful that his son would surpass the prestige that many of his ancestors had achieved in the Kingdom of Naples, spared no effort in providing him with a comprehensive education: he hired renowned masters of the classics, literature, geography, cosmography, architecture and fine arts, even coming from abroad to instruct him privately. And since music was his father's favourite art, he demanded that the boy dedicate three hours of study a day to it, a period that he spent locked in his room with his instructor. "These long hours of seclusion seemed at first to be a penance for the young pianist, but he soon became so enamoured with harmony that the prison became a place of delight for him."3
Remarkably gifted, it seemed that, little by little, the boy was fulfilling his father's aspirations: at twelve he was considered a master at the harpsichord, at sixteen he was already practising the honourable profession of lawyer… However, some time later, contrary to his father's wishes, he decided to abandon everything to become a priest.
Music in the apostolate of St. Alphonsus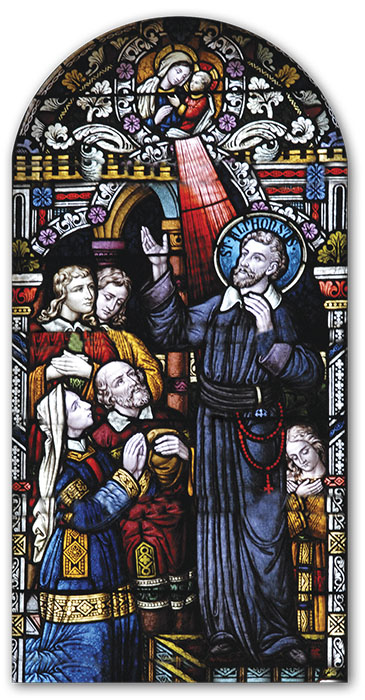 In renouncing titles of nobility, marriage proposals, careers and riches, Alphonsus came to be regarded as irresponsible, even by some of his relatives and closest friends. However, to those who viewed him from the divine perspective, he was like the man in the parable who put all his talents to use wisely: what he had learned from his teachers did not prove useless, for in his long life he had always used these abilities for the glory of Our Lord and the service of his noble vocation. His apostolic work was very wide-ranging and we can still benefit from it today, through his writings, his paintings and his music.
When he embraced the ecclesiastical way, Alphonsus, like so many other Saints, wished to evangelize faraway lands and even China had a place in his dreams. For him, however, the apostolate was reserved for regions not far from his birthplace: Naples itself, and then other small towns and countryside in the surrounding area.
For the success of his missions, he not only employed preaching but he also composed various spiritual hymns. And he was soon able to see how great an ally his music was, for his songs served to replace blasphemy and licentious words, while instructing those who learned them in the truths of the Faith.
A cleric from Naples, who lived after the Redemptorist founder, did not hesitate to affirm that "only Alphonsus de Liguori gave Italy popular singing in all its perfection. Even today, after one hundred and fifty years, his songs resound through valleys and mountains and, like all true poetry, they have retained the freshness of their youth."4
Some fifty poems make up the Alphonsian Canzoniere. While the melodies convey vitality, enthusiasm and joy, the poems are a mixture of high-quality theological teaching and candour full of innocence, under the inspiration of the moment and with the same purpose: "To inflame souls in divine love, communicating to them the sacred fire that burned in his own heart."5
Among them, without doubt, Tu Scendi dalle Stelle and Quanno Nascette Ninno are the best known throughout the world.
The "Tu Scendi" stolen
Written almost always during his missions, the exact history of each song has been lost in the mists of time. Tu Scendi dalle Stelle, however, is one of the few whose origin is known.6
Alphonsus was on mission in the city of Nola. When he had finished his composition, he showed it to the parish priest, Fr. Michele Zambadelli. The latter, delighted with the work, expressed a desire to copy it, but the Saint told him that he could not accede to his request until it had been printed and distributed. Leaving the score on the table, he went to the church where he was to preach his last sermon.
Fr. Michele, not content with his refusal, decided to copy the music while Alphonse was away… Once his "work" was finished, he also went to attend the end of the sermon, where the preacher intoned the new song. Everyone listened to him, enthralled. But there was a slight a sbaglio and Alphonsus forgot some lines, so he called an altar boy and told him:
"Look, there is Fr. Michele. Ask him for the copy of the canzoncina. He has it in his briefcase."
On receiving the little emissary, the priest was astonished! And he was about to hand over his copy when the Saint took up the song again, which he had not forgotten at all…
Various hymns, but just one poem
Another beautiful Christmas work of St. Alphonsus is the Per la Nascita. Its passages were later enriched by being set to various melodies, one more beautiful than the other. Since its composition is also unknown, we are allowed to hypothesize that it was completed over a period of time – hence its length and its diverse metrics.
The story is told, for example, that at Christmas time, Alphonsus had planned to enter the church singing a song that he had composed for the occasion, while carrying the little statue of the Baby Jesus. But, on account of his intense missionary activities, he forgot this plan. As the procession began, someone reminded him that he was to sing. Then, in an impulse of devotion and genius, the Saint improvised the magnificent Quanno Nascette Ninno, whose lyrics were part of the poem mentioned above.
Let us praise the Divine Infant!
Throughout the centuries, Christmas melodies represent an effort to reproduce the heavenly harmonies echoing in the cave of Bethlehem. If all the Saints had composed Christmas carols, we would see how virtue transformed into art has an incomparable power to bring us back to the supernatural!
This Christmas, then, under the maternal protection of the Virgin Mother of God and of her most chaste spouse, St. Joseph, let us unite ourselves to St. Alphonsus Maria de Liguori; let us be enchanted with his melodies, and with him praise the august birth of the Divine Infant! ◊
Quanno Nascette Ninno
When the Child was born in Bethlehem, / it was night yet it seemed midday, /
for that star that shone so brightly / and so lovely up above, /
casting its brilliant rays below / to beckon the Magi in the East.
As the shepherds watched their sheep, / an Angel brighter than the sun /
appeared and said: / Do not fear; /
but rejoice and be glad, / for earth has been transformed into Paradise!
For to you this day is born in Bethlehem / the awaited Saviour of the world /
you will find Him / – nor will you be mistaken – /
wrapped / in swaddling clothes and lying in a manger.
The shepherds' hearts beat strongly, / and they said to one another: /
Why do we tarry? / Let us go quickly, for we are pining /
to see God born as a Child.
Tu Scendi dalle Stelle
From starry skies descending, / Thou comest, glorious King, /
A manger low Thy bed, In winter's icy sting; /
O my dearest Child most holy,/ Shuddering, trembling in the cold! /
Great God, Thou lovest me! / What suffering Thou didst bear, /
That I near Thee might be!
Thou art the world's Creator / God's own and true Word, /
Yet here no robe, no fire / For Thee, Divine Lord. / Dearest, fairest, sweetest Infant, /
Dire this state of poverty. The more I care for Thee, / Since Thou, O Love Divine, /
Will'st now so poor to be.
Leaving the Father's bosom, / on hay Thou dost repose. /
My heart's sweetest love / Where hast Thy love carried Thee? /
O my Jesus, / how is it that Thou hast suffered so /
for the love of me?
Translation of two Christmas carols of St. Alphonsus Maria de Liguori; above, a score of one of them
Notes
---
1 ST. ALPHONSUS MARIA DE LIGUORI. A verdadeira esposa de Jesus Cristo. Aparecida do Norte: Oficinas do Santuário de Aparecida, 1922, v.II, p.408.
2 REY-MERMET, Theodule. El Santo del Siglo de las Luces. Alfonso de Liguori. Madrid: BAC-Editorial El Perpetuo Socorro, 1985, p.11.
3 BERTHE, CSSR, Augustine. Santo Afonso de Ligório. Rio de Janeiro: CDB, 2018, p.33.
4 Idem, p.357.
5 Idem, ibidem.
6 Cf. GREGORIO, CSSR, Oreste. Canzoniere Alfonsiano. Studio critico estetico col testo. Angri: Contieri, 1933, p.136.